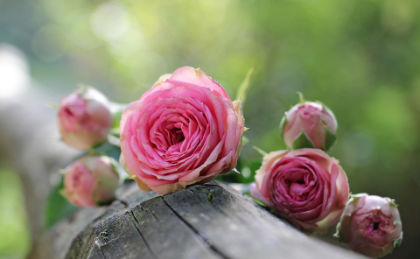 This 8 oz. jar of delight is filled with nourishment for your face. It begins with a base of Organic hemp seed, Organic olive oil, Organic jojoba and organic flax seed oil, with a little shea butter for moisture retention. Then I add, moringa, cucumber seed, papaya, guava, Seabuckthorn, chamomile and a touch of Rose Geranium & orange for a light and lovely fragrance and wonderful skin regenerating properties.

My hands and body love it, too!
Lavender Water Plus 100 ml
Gentle lavender. It soothes and disinfects minor scratches, bites and burns. It offers a sense of calm and peace, and can be relaxing in moments when the nervous system seeks balance. It makes a lovely bedtime scent for relaxation and sleep. Its restful fragrance is gentle enough for the young and young at heart…

I make lavender water using organic lavender plants from my garden. I add wildcrafted Bulgarian Lavender essential oil to the Lavender water. It adds a bit of depth to the gentle lavender water scent and increases its antibacterial, anti-mold abilities.

Avoid eye contact.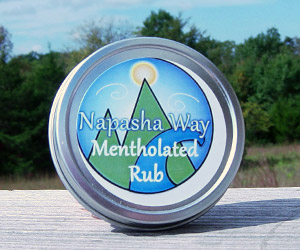 Keep plenty of this on hand for the winter colds and flu season. This blend of Organic Blue Gum Eucalyptus, Organic Peppermint and Organic Ravensare essential oils in organic cold pressed olive oil soothes congested lungs, opens breathing passages and expels mucus from the lungs. Apply it to the chest alone or add a warm compress for penetrating relief.

Not intended for children under 3 years of age.

Avoid eye contact.

Ingredients: Orgainic cold-pressed olive oil, beeswax, Vitamin E, Organic Blue Gum Eucalyptus EO, Organic Peppermint EO, and Organic Ravensare EO.
Our Oregano spritzer helps prevent colds, flu or viral infections that are airborn or come in contact with door handles, countertops or common transmission sites for infection or illness.

I spray it on my face and hands before I enter a public place; I spray my face and hands again each time I return to my car.

To use: Close your eyes and mouth. Spritz the mixture around your face and hands. and keep your eyes closed for a minute so. Do not use on children under seven, as it can burn if it goes directly into the eyes of little ones who are not quite in control of their bodies and are unable to keep their eyes closed during application. If you do get some oil directly into the eyes, rinse the eyes for several minutes with cold water.

Ingredients: Berkey water, wildcrafted Oregano essential oil, and witch hazel.
These products and statements have not been evaluated by the FDA. Consult a health care practitioner for medical advice.
Overnight Regeneration 8 oz Jar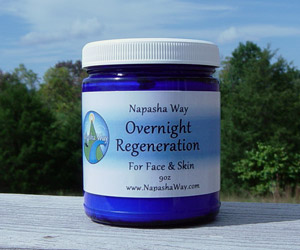 I considered calling this lotion "Love in a jar." This mixture is a little thicker overnight mixture of organic hemp seed, organic olive oil, organic jojoba and organic flax seed with shea butter. Then Foraha, moringa, prickly pear, organic rose hip seed, organic carrot seed oil, organic bitter orange, wildcrafted helichrysum and vitamin E oil round out this nutritional dynamo.

Over time, it will lessen wrinkles fine lines and scars, balance skin tone and stimulate healthy skin regeneration.

Yep. Love in a jar.
Rose water is highly prized for its benefits to skin and hair. It tones, nourishes and encourages the regeneration of healthy skin cells. Used regularly, it brightens skin and tightens pours. It gently reduces inflammation of the skin and helps heal acne. Lightly dab rose water around the eyes (but not in them), to lessen dark circles and puffiness.

I use it in the shower on my hair. It settles the fuzziness of "humidity hair." It is an alternative to normal hair oil and when rubbed into the scalp, it addresses dandruff and inflammation.

I use two species of roses from our garden and one wildcrafted rose from our land. After I make the rose water, I add Wildcrafted Bulgarian Rose Otto. The Rose Otto adds depth to the rose bouquet and opens one to the consciousness of love. It increases the water's anti-bacterial and anti-mold abilities, and increases the rose water's ability to heal, nourish and regenerate healthy skin tissue.

Apply Rose water to face, hair and clothing for a delicate fragrance.

Avoid eye contact.
For burns, bites, bumps and bums!

This is a mother's "go to" for the little bites and bumps in life. Itchy bug bites, "owies," little mysterious rashes, bruises, and minor burns are calmed and nourished by our Soothing Salve.

It works great for moms and dads, too.

Safe for all ages.

Avoid eye contact.

Ingredients: Cold pressed olive oil, organic Lavender water, beeswax, Vitamin E oil, Organic Roman Chamomile EO, Organic Bulgarian Lavender EO, Organic SeaBuckthorn EO, Organic Rose Hip Seed Oil.