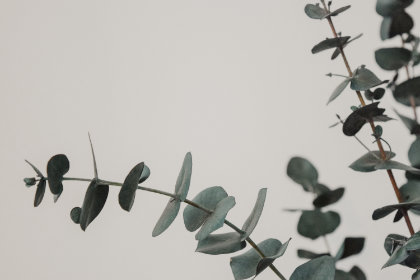 The eucalyptus family is a huge class of plants numbering over 800 subspecies. Several of them are used for traditional healing. Eucalyptus globulus has the smell that many of us relate to Vicks Vaporub (without petroleum, camphor and turpentine that can be toxic). In the 1800's it was used to sterilize medical equipment.

Eucalyptus has been traditionally used for sore throats, sinus and lung congestion, sinus and lung infections, colds, bronchitis and flu. Eucalyptus is antibacterial, antifungal and antiviral. It is used in massage therapy as an analgesic and anti-inflammatory, relieving tired and overstressed muscles.

Used in a diffuser, Eucalyptus is effective for sinus and lung conditions; it purifies the air as well. It can also be diffused to lessen drowsiness or mental exhaustion.

Eucalyptus is used in home cleaning products. It is a good deodorizer and helps rid one of dandruff. Eucalyptus is also found in many natural bug repellents.

Diluted in a carrier oil, it is applied to the neck, chest, back and feet for colds, flu, congestion and lung infections.