In the old world the term Napasha translated to "the ever flowing wellspring of life." We felt this term perfectly refected the essence of our company. We are not an MLM, rather we are a family run business. The oils we provide are organic or wildcrafted. Wild harvesting is done in a responsible, sustainable manner and ensures the robust potency of each oil is not diluted or compromised through mass cultivation.

We invite you to visit our store to see our complete offering of oils and blends.
Featured Blend - Scar Tissue Blend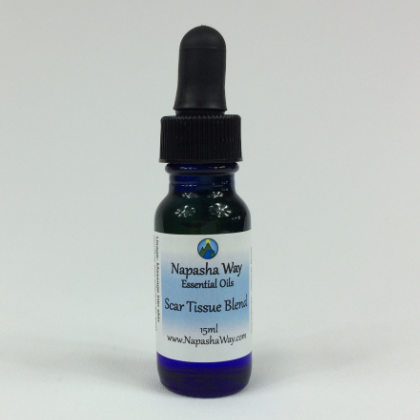 Here is a wonderful gift from the plant world. I use premium wildcrafted rose geranium to soften hardened tissue; wild crafted lemongrass to send the waste out through the lymph system and organic orange oil, jojoba and foraha to create healthy new tissue. This blend is amazing.
I have had dozens of clients use this for hardened lymph, muscle tissue, muscle tears, striated tissue, and hardened fat cells, all with great results. I was my own first customer when I used this recipe on myself. In a few short weeks, my breast tissue, which had come to feel striated and hardened, softened and the lymph cleared where I no longer felt any congestion or restrictions. To be clear, I am not suggesting this as an answer to breast cancer. This is suited to situations where there is newly hardened, striated, blocked tissue or congestion. If you are unsure about your situation, seek medical guidance before using.
I have used it on people with recent surgeries, where the wound was closed over and in active healing. It softens the tissue and prevents tissue build-up and restrictions in movement. It keeps the lymph moving so there is not discomfort from blockage, and it speeds the healing process. It smells lovely, too!
These products and statements have not been evaluated by the FDA. Consult a health care practitioner for medical advice.
Did you know ?


We use Miron bottles to maintain the purity of our Essential Oils and enhance the shelf life of these precious resources.

Learn more about Miron bottles.
Featured Blend - Pain &amp Inflammation Blend
Pain &amp Inflammation Blend 30ml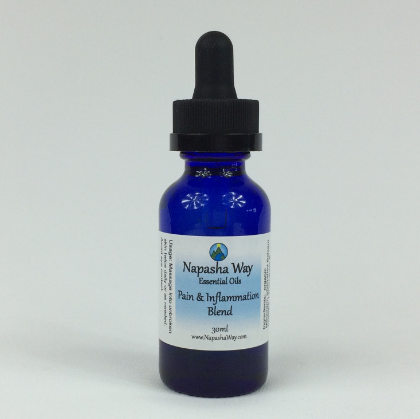 I make this blend for my clients who are in pain: joint and muscle pain and strain find relief when using this blend. It is helpful to those with arthritis, stiff joints, overworked muscles. I made this for myself first when I overused my muscles during massages. I massage it into my fingers, wrists, arm and elbow and soon I my arm is relaxed and my pain is relieved. It is helpful for any tired or overworked muscles. My clients also like it for stiff hip joints and low back pain. This is a great mixture to use for massage!
Balsam Copaiba, Marjoram, Lemongass and Sweet birch in organic olive oil.
These products and statements have not been evaluated by the FDA. Consult a health care practitioner for medical advice.